Workers' Comp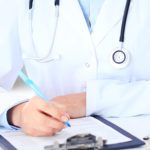 Workers' Comp at Atlantic Orthopaedics
Work-related injuries happen every now and then. If you're hurt on the job, our team is here to help you handle your claim, recover from injury, and return to work. Throughout treatment, we will keep your employer and insurance company in the loop about your progress and expected recovery time — careful to make certain that wage replacement and medical benefits are correctly distributed. If your injury requires advanced imaging to diagnose — like MRI, X-Ray, Ultrasound, or EMG — or Physical Therapy or Occupational Therapy to continue healing, we are able to refer you. If your injury requires surgery, we are able to provide that in-house.
Call our offices at 603-431-1121 (Portsmouth, NH) or 207-363-3490 (York, ME) to request an appointment to discuss your workplace injury or complete our Online Scheduling Form.
Treating Providers | Workers' Comp
Our team is here to help you with your workers' comp claim, necessary treatments, and total recovery plan.
Not Finding What You Need?