Injections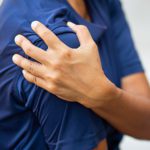 What Are Injections?
Injections are used to deliver medication to specific areas of your body to help reduce pain caused by excessive or persistent swelling and inflammation. For example, cortisone shots can help relieve pain caused by swelling or inflammation in the joints and ligaments of your shoulder, knee, hip, ankle, elbow, wrist, and spine, and can even minimize discomfort caused by arthritis. Injections are often used as an alternative to surgery — to manage pain and to help aid in the body's natural healing processes. Typically, injections decrease inflammation for up to several months.
Injections at Atlantic Orthopaedics
Our general orthopedic and sports medicine providers offer several types of injections, including cortisone shots (also called steroid injections), trigger point injections, and platelet-rich plasma (PRP) injections. Every injection is carefully administered and most are guided by ultrasound technology to improve the location-accuracy of the injection. Whether on or off the field — athletes and everyone — our goal is to help reduce your pain, restore your natural mobility, and enhance your output and performance.
Areas Treated
Back/Spine
Hip
Knee
Wrist/Hand
Shoulder
Elbow
Foot/Ankle
Learn more below about the specific symptoms, conditions, and injuries treated with injections.
Injection Consultations
Make an appointment to discuss your joint pain or sports injury. Our providers will help you understand if an injection is right for you or if another treatment plan is more appropriate. Call our offices at 603-431-1121 (Portsmouth, NH) and 207-363-3490 (York, ME). If you wish to request an appointment online, please complete our Online Scheduling Form.
What Do Injections Treat?
Common symptoms of pain treated by injections include:
Joint Pain

Swelling

Cartilage Damage

Joint Infection

Nerve Damage
Common conditions treated by injections include:
Osteoarthritis

Tendonitis / Chronic Tendon Injuries

Back and Spine Conditions

Nerve Damage and Injury

Carpal Tunnel Syndrome

Arthritis / Rheumatoid Arthritis 
Common injuries treated by injections include:
Ligament Injuries

Muscle Injuries

Non-healing wounds
Is An Injection Right for You?
If you're suffering from joint pain, an injection may help. Learn how injections reduce inflammation in your joints and aid recovery.
Treating Providers | Injections
Whether you're a competitive athlete, weekend warrior, or someone who is experiencing general joint pain caused by aging or another injury — we are here to help you.
Not Finding What You Need?