Osteoporosis Screenings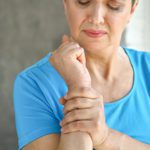 What Is Osteoporosis?
The bones in your body are constantly breaking down and being rebuilt. Osteoporosis is a condition that occurs when your new bone growth cannot keep up with replacing old bone decay in your body. As the density and mass of the old bone decrease, your bone structures weaken, and the chance of a bone fracture increases. In severe cases, bones can become so brittle that even mild movement or gentle impact can result in fractures.  
Osteoporosis Care at Atlantic Orthopaedics 
Our goal is to help you live pain-free and to stop bone loss from changing your quality of life.
At Atlantic Orthopaedics, we're experts in osteoporosis screening and treatment. Our providers can perform a bone scan to determine if your bones have become naturally thinner over time. We will also discuss your personal health history, family health history, lifestyle choices, and other factors that may be impacting your risk for developing osteoporosis or worsening any signs of existing osteoporosis. In all cases, we will help you understand the details of any diagnosis and we will work closely with other medical professionals, like Occupational Therapists and Physical Therapists, to develop and carry out an osteoporosis treatment program or osteoporosis prevention program that meets your near- and long-term needs.
Osteoporosis Screening Appointments
Make an appointment to see one of our providers specializing in osteoporosis assessments and care by calling our offices at 603-431-1121 (Portsmouth, NH) or 207-363-3490 (York, ME). You may also request a consultation by completing our Online Scheduling Form.
More Info | Osteoporosis
Evaluate or Treat Your Osteoporosis
Treating Providers | Osteoporosis Care
We offer osteoporosis screenings and treatment plans to people of all ages living in New Hampshire, Maine, and Massachusetts. Get to know our osteoporosis experts.
Not Finding What You Need?