Cartilage Restorations and Transplants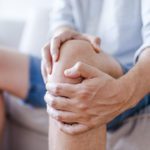 What Is Cartilage Restoration? 
The knee is home to two types of cartilage: meniscus and articular. Together, they work to protect the knee by providing joint lubrication and shock absorption. But repetitive motion activities like running, trauma caused by accidents or sports, or persistent re-injury can all contribute to cartilage damage and deterioration over time. As a result, many people with cartilage loss will notice their knee click, lock, or swell due to a lack of padding around the bone. Cartilage restoration and transplant can be an effective treatment to resurface the knee, preventing the need for more invasive surgery down the road. This procedure is best suited for active, young adults with damaged cartilage in the knee. Reach out to our providers today to see if this treatment might be right for you.
Cartilage Care at Atlantic Orthopaedics
If you are experiencing knee pain, you are not alone. Atlantic Orthopaedics offers cutting-edge treatments to resolve knee and other joint pain, including cartilage damage caused by acute sports-related injuries or repetitive motion trauma, as well as early symptoms of arthritis.
Dr. Tyler Welch and his team utilize the latest arthroscopic cartilage restoration techniques to serve patients throughout the Seacoast of NH, southern ME, and northern MA. With minimally invasive arthroscopic knee surgery for cartilage damage, the surgeon makes a small incision around the knee joint to repair torn tissues, stimulate the bone marrow to produce new cartilage, or replace damaged cartilage with a graft. This approach may help preserve the knee and prevent knee replacement surgery.
Cartilage Restoration and Transplant Evaluation
Make an appointment with Dr. Welch today to see if cartilage restoration is right for you. Call our offices at 603-431-1121 (Portsmouth, NH) or 207-363-3490 (York, ME) or request a consultation through our Online Scheduling Form.
More Info | Cartilage Restoration
Evaluate or Treat Your Cartilage Damage
Treating Providers | Cartilage Restoration
Our Cartilage Restoration and Transplant Surgeons are leaders in diagnosing and treating competitive athletes and individuals of all ages and activity levels throughout Maine, New Hampshire, and Massachusetts. We are dedicated to relieving your knee pain so you can get back on the field or back to life.
Get Our Free eBook!
LIFE AFTER SURGERY
6 Tips to Optimal Post-Op Recovery
Enter your email below and you'll receive the free guide right in your inbox.
Not Finding What You Need?