Shields MRI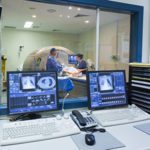 What Is MRI? 
MRI stands for magnetic resonance imaging and an MRI machine is a large tube-shaped magnet that creates detailed pictures of the musculoskeletal structures of your body – the bones, tissue, and organs. MRI is a useful diagnostics tool that can help providers identify injuries and monitor how a patient's body is responding to recovery and treatment plans. 
MRI at Atlantic Orthopaedics
At Atlantic Orthopaedics, we've partnered with Shields MRI to provide our patients fast and accurate onsite MRI services — the same MRI services trusted by New England's top professional sports teams. Shields offers state-of-the-art 1.5T open* MRI and is conveniently attached to our orthopedic clinic on Lafayette Road.
Benefits of Shields MRI Portsmouth
Ease and availability of scheduling
*Open bore design = more headroom than other MRI machines
Soft mattresses with head support for optimal comfort
5 to 2x faster scan times than lower-strength MRI
2-way speakers for ongoing communication with your technologist
Secure online results through the Shields Express Link
Savings with Sheilds MRI Portsmouth 
Shields MRI Portsmouth provides unmatched expertise at a significantly lower cost. Patients of Shields can up to save 60% (sometimes more) on MRI costs for the same MRI services provided by other area hospitals. For example, an MRI of your knee may cost you more than $1,800 at Wentworth-Douglass Hospital vs. only $625 at Shields.
MRI Cost Calculator 
Do you want to know what your MRI might cost based on your insurance? Try this MRI price calculator from Shields.
MRI Appointments 
Visit Shields Online or call their offices to schedule your MRI: 1-800-258-4674.
MRI Referrals
If you need an MRI referral or an MRI consultation, contact us or call our offices at 603-431-1121 (Portsmouth, NH) or 207-363-3490 (York, ME).
More Info | MRI
Learn what conditions and injuries are often identified with MRI, how to prepare for an MRI, and what type of treatments may be recommended based on MRI findings.
Diagnose & Treat Your Pain — Get an MRI or MRI Referral.
Our Patients Love Shields
"I had an MRI done in Portsmouth. Both ladies who worked with me were absolutely wonderful! They were patient and kind, explaining everything along the way. I would recommend both of these ladies if you have any fears of this procedure! The machine they had was very new, it had a larger opening and I didn't feel claustrophobic at all! I can say this has been my best MRI experience ever! Thank you all!"
– Mary K.
Learn More About Shields MRI
Deciding if Sheilds is right for you? Visit their website to learn more about Shields Portsmouth.